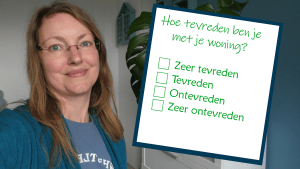 Vul de Autisme Woonenquête in
De Autisme Woonenquête is bedoeld om de woontevredenheid onder mensen met autisme in kaart te brengen. Het gaat om volwassenen met autisme die zelfstandig wonen, eventueel met ambulante begeleiding. Het maakt niet uit of je een huurwoning of koopwoning hebt.
Ken jij mensen met autisme?
Het wordt erg op prijs gesteld als je dit bericht binnen je netwerk verspreidt. Hoe meer mensen de enquête invullen, hoe beter.
Heb je zelf autisme?
Heb jij autisme en woon je zelfstandig? Vul dan de enquête in. De resultaten worden binnenkort op de website Mariska Media anoniem gepubliceerd.
Bij het invullen van de enquête worden geen persoonlijke gegevens verzameld.